Educational resources to fight archaeological looting and illicit trafficking in cultural property.
A major issu, a common response
Archaeological looting and illicit trafficking in cultural property have serious consequences for our understanding of the past (destruction of archaeological contexts), for our security (financing of terrorism) and for the development potential of many countries (degradation of tourist resources and cultural impoverishment).
Beyond the legislative, police and technical means, it is all citizens and, more particularly, the younger generations that must be mobilised to fight against this scourge.
This is the objective of the European project PITCHER (Preventing Illicit Trafficking of Cultural Heritage: Educational Resources) launched on 27 and 28 January 2022 in Bibracte.
Funded by the Erasmus + programme (Erasmus + France / Education and Training agency) for a period of 36 months, it brings together 8 European partners:
- Bibracte (coordonnateur – FR),
- Centre de recherche de l'Ecole nationale supérieure de la police (FR),
- Michael Culture Association (BE),
- Museomix Association (FR),
- Lycée franco-hellénique d'Athènes (GR),
- Instituto de educacion secundaria Albalat (ES),
- Istituto comprensivo Ennio Quirino Visconti (IT),
- INS La Bisbal (ES).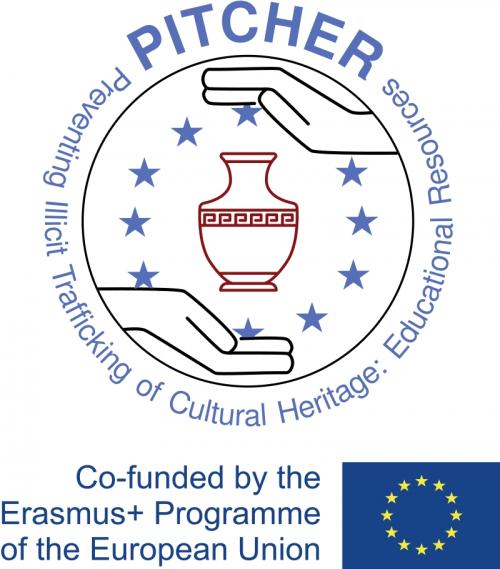 PITCHER will deploy a series of actions aimed at teachers and mediators in order to support them in their work with young people:
- Providing knowledge about this phenomenon and training sessions, particularly in the framework of the PREAC "Archaeological Heritage" programme run by Bibracte.
- Exploitation of the educational potential present in European cultural institutions to feed their educational sequences and highlight the international dimension of this scourge.
- Creation of educational resources to be used in the classroom, in museums and on archaeological sites. These will be "open" resources, produced under Creative Commons licences, freely accessible, usable and adaptable.
- Organisation of events: Museomix marathons to develop educational prototypes, European Heritage Days to test certain resources with schools on Fridays and families at weekends...
PITCHER will thus develop scenarios that will advance the principle of "open schooling" by creating groups of stakeholders around a common commitment. It also aims to develop young people's critical thinking and creative approach to the protection of cultural heritage as a means of mutual understanding and social cohesion.